#150 - SOS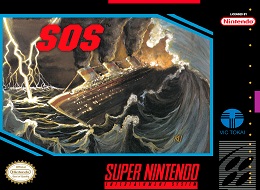 Here is the
other
game called
SOS
, this time a cinematic survival action adventure platformer from Human Entertainment, the bad boys behind the Clock Tower series. And what exactly does "cinematic survival action adventure platformer" mean? I donít know, I just made it up. But it seems fitting.
The gist of the premise here is that you select one of four passengers aboard the SS Von GonnaSink. Before too long, disaster strikes, and you have
one hour
to get their ass to safety. Which means lots of running and jumping across the multitude of rooms and decks of the doomed ship. Kind of like a cross between
Prince of Persia
and
The Poseidon Adventure
.
Of course, if you are feeling particularly bold (or youíre not a completely self-centered asshole), you can also try to help other passengers escape in the process. This can be done by letting them tag along, and assisting them with the various ledges youíll need to climb, almost turning the entire game into an extended escort mission.
So,
a really cool premise
in my opinion. I canít say Iíve played too many games like this, which really made it feel like a breath of fresh air. Iím not at all familiar with the Disaster Report franchise, but I wouldnít doubt that games like that owe at least some inspiration to this game.
Now for the bad stuff. First, the controls areÖ frustrating, to put it mildly. There is nothing worse than a ticking clock, and controls that are apt to send you flying into a chasm. And this is gonna happen a lot.
Worse, the companion AI is completely braindead. Like, throw-your-controller-and-scream-at-the-TV stupid. Possibly the dumbest companions in the history of video games. That might be a slight overstatement, but I donít care to think otherwise. It was more than enough to get my blood boiling.
The game is also rather short once you know what youíre doing. Playthroughs can last as little as 20-30 minutes once you have the proper paths down, so after you have ďcompletedĒ the game with all four characters, there isnít a whole lot of replay value. Unless you savor the idea of getting incrementally better endings by tacking on ever more braindead followers. Oh, right, the multiple characters...
Since you do have a choice of characters, you get to see four different storylines. Each character also has their own basic ďscenarioĒ too. So, for example, the doctor has to track down his wife, the businessman needs to find his estranged sister, etc. Other characters have their own side stories (and questlines in order to get them to follow you), but they are basically the same across the different scenarios.
I should also mention that the angle of the ship is constantly changing (signaling it slowly capsizing over the span of the hour). This is a super cool idea, but it also makes the platforming
super
unpredictable. And it makes the final boiler room one long exercise in pain. But still, I love the idea!
And thatís basically
SOS
in a nutshell. It's one of the coolest concepts in the entire SNES library, with super questionable execution. Hell, botched execution. But I love high concept games, and Iím almost always willing to look past frustration and pain for the sake of a unique gaming experience. So I recommend that everyone check this game out. Everyone. Most people will undoubtedly find it too frustrating to be anything more than a curiosity, but it is an experience that needs to be had.
Did I beat it?
Yes, though I didn't get all of the best endings.