#325 - Jurassic Park Part 2: The Chaos Continues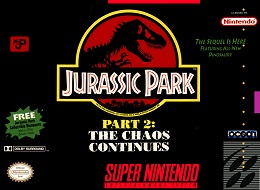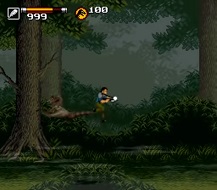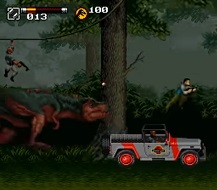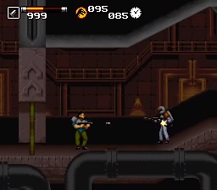 Okay, I know I like to bash Ocean, but they actually have a decent number of games in the middle ranks here, don't they? Granted, what I've written about recently represents most of the rest of their remaining SNES output, which means even their best work was only 'okay,' but hell, I'll take it.
Jurassic Park Part 2
, not to be confused with
The Lost World
,
Jurassic World: Forgotten Sequel
, or
Carnosaur 2
, is an interesting little package. One that abandons the overhead adventure stylings of the original JP game for a much faster-paced run 'n gun deal. One that is also unrelentingly difficult. I've been saying that about a lot of games recently, and only partially because I'm a wimp, but these really are the ranks of platformers and action games that are primarily held back by their difficulty.
The game opens with one of the sweeter cutscenes in all the Super Nintendo library. In it, evil corporate suits discuss diabolical plans while a squadron of helicopters flies over Jurassic Park. Suddenly, soldiers bark orders and begin their insertion as the title card hits and a raptor claw swipes a "II" across the screen. Very impressive.
One of the better things about the game is that there is a nonlinear procession to everything, allowing you to pick between the six different levels from the start. This sort of flexibility is never a bad thing.
Raptor Attack
- Journey through the jungle and then into the depths of some endless building. I'm not sure if I got lost, or if this thing just goes on and on and on, but I never made it out of that damn building.
T-Rex Carnage
- Another traipse through the jungle, where I again got lost. Just keep going right; it's a strategy that works for corn mazes, and it seemed to work here. Things cap off with a T-Rex chase, where you act as gunner from the back of a jeep, all while rando mercenaries try to shoot you from the nearby tree branches they're hanging from (wtf?). I never made it past this part since I had no idea what to do.
Blockade
- Fight through the depths of Jurassic Park's infrastructure, murdering a thousand human beings before eventually dying because there are NO DAMN HEALS IN THIS LEVEL, evidently.
High Ptera
- Climb up into the mountains of Jurassic Park, getting dive bombed by pterodactyls and endless falling rocks. The rocks are bullshit.
Seek and Destroy
- Journey into a volcano (again... wtf?) where you will get destroyed by anything and everything over and over again. This level can suck a d.
Protect the Gallimimus
- Run through an endless gauntlet of mercs, while trying not to get bowled over by the stupid dinosaurs you're trying to save (ungrateful bastards), while also avoiding hidden mines. This motherfucker never ends either.
Now everything about this game looks great. The sprites are good, the animation is done well, the levels are all solid (if not a bit samey-looking at times), and the dinosaurs look and move like dinosaurs. I have absolutely zero complaints in this department.
The controls are also 100% completely rock solid. Everything absolutely feels like it should: there's no slipperiness, stiffness, awkwardness, nothing. Zero complaints here either.
The gameplay, though, is not refined enough. It feels like you are constantly being bum rushed by enemies - a feeling that never ever relents for the entire game. There's also constant cheap shots, as hazards suddenly go off in your face, or enemies/obstacles fall into your face with little to no warning. It's the sort of thing where you'll either need to play the game enough to memorize where everything is (and this is not a small game), or you're gonna have to move at a slow shuffle, constantly trying to get the jump on everything before it jumps you. That is not my idea of a great time.
Lastly, I should mention the interesting mechanic where you are punished for killing too many of the (non-raptor) dinosaurs throughout the game. How do you play a pacifist in a game where youíre armed with a rifle? By using ďnonlethalĒ ammo, with the rub being those rounds are slower, less powerful, and limited in supply. This makes for a nice balancing act to aggression and self-control, forcing you to play strategically. Granted, I never got through the whole game in one shot, so I don't know how well balanced it remains for an entire playthrough, but I like the idea.
Final thoughts? Good game, very good game by Ocean's standards, but not great. Or as good as the first
Jurassic Park
game. And not good enough for me to see it through to the end, something very few will accomplish.
Did I beat it?
Easy is manageable enough, but beating this game on "Hard" so that you can see the ending? Good luck.