Guilty Pleasure #1
#350 - Super High Impact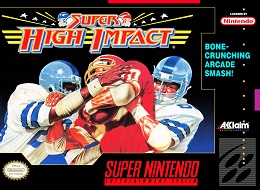 At last, we have reached the "guilty pleasures" section of this project. You have no idea how long I've been wanting to get to these
10
9
10 games, because I've worked on curating this little selection of titles since well before the first few write-ups were posted a couple of years ago. Actually, the only other thing that has really changed in all that time was their placement. I've shuffled them from an original set of spots at the #250 mark, moved them down to #300, and finally, landed here at #350. Why the constant changes? I guess you can blame the growing number of games I enjoy on the Super Nintendo, which has caused me to keep shifting everything "upwards." If you follow what I'm saying. Or maybe I just like too many games.
Super High Impact
is basically a proto-
NFL Blitz
of sorts. As in, lots of ridiculous action, bone-jarring hits, cartoony characters and nothing resembling a real football game to be found anywhere. Both titles also originated in the arcades, where simple controls and fast-paced gameplay are the rule.
Now, I do have to admit that the game is painfully limited in scope - no doubt a carryover from its arcade roots - because all it offers are a small handful of teams to choose between (all of whom appear to play exactly the same), and the sole option to play single games. No seasons, tournaments, playoffs, create-a-team, nothing.
So why is this thing being honored (perhaps dubiously) with a "guilty pleasure" tag? I guess because of how ridiculous it is. The screenshots (and the photograph of my CRT at the end there) tell most of the story. It's 90s 'tude to the max, mixed with a gloriously silly and over-the-top presentation, and wickedly fast gameplay that makes little sense in motion, but always provides plenty of hilarity. Even the player animations are (purposely?) stilted in the weirdest way. It's all a great time.
Now of course there isn't much going on here other than all of that ridiculousness. The actual football is very basic and there's not enough meat to its bones to really make you want to keep coming back. Anyone looking for balanced gameplay is playing the wrong game. But it's the perfect cartridge to bust out for game night, when it's more important to have everyone laughing and having a good time.
Did I beat it?
You can only play single games, so... yes?