#125 - True Lies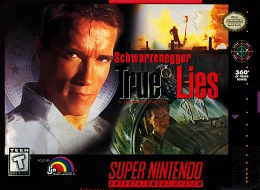 A great game from LJN? Madness!
I kinda fell off with tracking the different publishers on the system, but that was something I had a lot of fun with in the early days of this project. Ripping on Mindscape and Acclaim and Accolade, and all the other purveyors of crap is one of those things gamers can never get enough of. Hell, the AVGN basically built his entire empire on it.
At one point I was even tracking the exact ďrankingĒ each of those publishers was laying claim to here. I retroactively got rid of all that later on, for various reasons, but itís something Iíve thought about revisiting. Maybe something along the lines of ďbonusĒ pages that I could add to this site whenever I finally have a free moment. Average ranking by franchise, average ranking by publisher, average ranking by genre, etc. Iíd love to do it, it just takes more commitment.
Anyway, I did try to call out that even the worst publishers tended to accidentally make good games on occasion. Or sometimes several occasions. And LJN absolutely comes to mind first. Theyíre infamous for a lot of the terrible games and movie adaptations that came out for the NES and SNES, and itís for good reason. Most of those games truly are bad. And yes, they do tend to get piled on because of the infamy that the AVGN gave them. Itís mostly deserved.
But they did have good stuff. And this is the #1 title that bucks their trend. Another movie adaptation, this time from a James Cameron and Arnold Schwarzenegger joint that followed up
T2
(and preceded
Titanic
).
Reception to the movie was fairly mixed, but as a kid I loved it. It was exciting, funny, full of great setpieces, and it had Bill Paxton in full camp mode. Always a good thing.
When I saw screenshots of the game in magazines, I was instantly smitten. I have a huge soft spot for 3D overhead games, and even though I usually ignored games based on movies, I immediately put it at the top of my list.
Öto no avail. I never rented it, or even saw it in a rental store. I never got to play it, so I didnít experience it. At least, not until decades later.
Once again, this was a game that was at the top of my list when I got serious about my SNES collecting. Up until 2008 or so, I was a pretty passive collector, buying whatever I came across if it was dirt cheap. Once I started actively seeking the cartridges out, I bought this one the instant I finally ran across it in the wild.
And I played through it that night. In one sitting. This was before I had kids, so it was the sort of luxury I could enjoy.
And let me tell you, it was a hell of a frustrating experience. This game is not easy, and itís not forgiving, and there are several mechanics to it that have not aged particularly well. And some of the bosses made me want to smash my controller. Itís possible I threw it at one point; I donít recall for sure.
But dammit if LJN didnít pull it off. A very good, if not great, overheard action shooter. Kinda similar to stuff like
Soldiers of Fortune
, or
Operation Logic Bomb
. But even better.
Now donít get me wrong, this is absolutely not a game for everyone, and it has very real (and very pronounced) problems. The absurd difficulty is just the tip of the iceberg. But I still recommend it wholesale if youíre looking for this type of shooter. The good outweighs the bad, and, most importantly, the game is plain fun to play. LJN done good.
Did I beat it?
I did, twice. And this is not an easy game, at all.