#25 - Teenage Mutant Ninja Turtles IV: Turtles in Time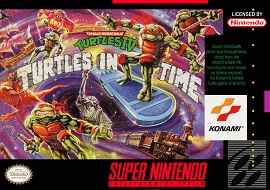 The best brawler on the Super Nintendo? It certainly appears thatís the shot Iím calling.
Some people are gonna balk at that. Theyíre gonna point out games like
Ninja Warriors
,
Final Fight
, and anything else they fancy. They might try to explain why this Turtles game is ďoverrated,Ē and how those games offer more depth, more challenge, or more...
whatever
. And I donít blame them. Those games all rule, so I would never fault anyone for preferring any of them. Hell, once upon a time I myself had
Turtles in Time
a bit lower in these rankings. In fact, I definitely had it below a couple of its peers in the fairly recent pastÖ
But I changed my tune. This is the order I stand by. Because, as I was playing through
Turtles IV
again, just recently - in the name of refreshing myself on some of its finer details - I had a revelation. See, Iíve been playing this game for over thirty years at this point. Iíve completed it at least thirty times. It has long ceased to hold any surprises for me. And yet, here we are in 2022, and I just played through it two consecutive times earlier tonight. Not only that, I actually had to refrain from doing it a third time. That almost never happens with me. I donít jump back into games I just beat. I move on to something else. I compulsively move on to something else. I have thousands of games on my shelf, and I got shit to get to!
But I did. That just happened, right before I wrote this. Back-to-back playthroughs. And I realize why, too. Itís because this game never gets old. Its charm is completely timeless.
Now, donít get me wrong, I LOVE
Battletoads Double Dragon
. Itís one of the very first games I ever owned, and itís one of the few games that Iíve played through at least a hundred times. Arguing that particular gameís merits is a hill Iím willing to die on.
I also love
Ninja Warriors
. Thatís more of a recent love, dating back a mere decade at this point, but itís another game I can endlessly play through without ever getting sick of it. Itís a true gem in the Super Nintendo library.
Oh, and my respect for
Knights of the Round
? Through the roof. That game kicks my ass, and makes me feel good about it. How often can that be said? A testament to its razor-sharp gameplay.
But when push came to shove, and I had to solidify these rankings, and I had to do one last look back at all of my decadesí worth of gaming memories, and I think about what games Iím going to be playing with my three sons in the near future,
Turtles in Time
jumps to the top of the list.
This is the game my friends and I played at birthday parties when we were growing up. Without fail.
This is the (arcade) game that I played with my dad at the top of the Space Needle, when we drove out to Seattle to watch Michael Jordan play the Sonics. Think about that, I got to see Michael Jordan play basketball at the height of his career, and yet I still retained a beloved memory of playing an arcade game with my dad for ten minutes.
This is the game I once convinced my wife to play through to completion with me, which is very much a rarity for her. Getting her to stick it out to the end with any kind of game is like pulling teeth. Yet she happily did it this time around.
In other words, this game is always there when happy memories are being formed, and for good reason.
So, I stand by my earlier claim. It is the best brawler on the Super Nintendo. I love everything about it. The controls, the graphics, the music, the levels, the boss fights, all of it. I never get tired of it. And by all accounts, neither do most of you. All hail the king.
Did I beat it?
A billion times.