#700 - Emmitt Smith Football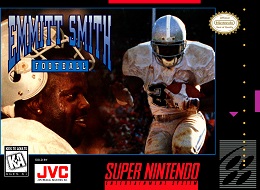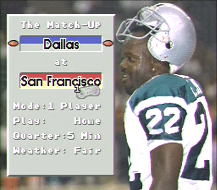 Tired of the football games yet? We're only 15 games into this thing and
Emmitt Smith Football
is already the third gridiron title to appear (not counting
Space Football
because it should be called
Space Rugby Pinball
). And there are still many more to come. It's endless.
I actually consider ESF to be slightly superior to similar dreck like
Pro Quarterbac
k because despite also offering the meager gameplay modes of single exhibition game and nothing else, this one kind of actually resembles a football game, even if only superficially. And it runs at 8 frames per second instead of 4. And looks like ass instead of mega ass. That's as close to praise as we can get at this point because everything else is (sub)par for the course.
The graphics are... well just look at those screenshots. Hell, just look at the player graphic for Chrissakes. Pitiful. Considering the game has one character sprite, a field, and a goalpost, they probably had one guy assigned to do it all. And he was terrible at it.
The play selection process tries to be different, but only succeeds in being cumbersome. Before selecting your formation you have to select what I'm guessing is the personnel package you're sending out on the field. "Big" would obviously be your large powerful players, "fast" would be your burners, and "hands" would be your best catchers. But what's the point? Am I gonna rock the hands team from the I-formation? Or my big team from a spread shotgun? Not that I ever noticed any difference from what I picked anyway. So it ends up just being an annoyance and extra step in getting a play call in.
Football checklist:
Running game - completely busted, I use the same play every time and average 10+ yards a carry. Defensive ends never play contain.
Passing game - completely busted, the receivers will stop running their routes once you release the ball. What the fuck?
Playing defense - completely busted, just sell out on the run every play
I also lied, there is one more feature to the game besides just the options menu and exhibition games. And that is a create-a-play mode. But with passing and running so inherently busted, what is the point? Plus it's painfully limited, so don't expect to be able to give your receivers triple moves or anything. It's a good idea, but it's poorly executed and it has no value because the attached game is so unplayable.
Of course there are no licenses at all (except Emmitt's ugly face) which is pretty standard for bad sports titles. Not so standard for 1995 though, which is when this game came out. It would be one thing if this came out around launch, but JVC honestly thought this could compete with stuff like
Madden 96
and
Quarterback Club 96
? Maybe they thought the allure of a Cowboy on the cover would make it sell? Because Emmitt's teammate Troy Aikman already had a fully licensed game that came out the previous year. So who was this game for? The mind boggles.
Now I think there is a reason why I'm being so hard on football games, and why there has been so little representation from sports like soccer or hockey so far. Part of it is because games like ESF truly are wretched and poorly designed pieces of shit. But part of it is also my understanding of the sport and the expectations I have for these games.
For example, I don't
really
get soccer. You pass a ball around for a while, try to dribble down the field and keep it away from the computer. Eventually one of your guys might have a clear shot on the net and so you take a shot. Maybe you score, maybe you don't. Beyond that, I have no idea if things are unfolding as they should. You can swap in this exact same sentiment for hockey, volleyball, tennis, wrestling, curling, Quidditch, boxing, or badminton. If the nuances are wrong in any way I'm not gonna know.
That's not the case with football (and baseball, and basketball to an extent). Here, every player on every play has to be acting in a way that is not only conducive to fun gameplay, but in a way that simulates a football game as well. It is very obvious to me when that is not the case. If pass coverage doesn't cover passes, run stopping doesn't stop the run, blitzers don't blitz, runners don't run, blockers don't block, and receivers don't receive, everything immediately starts breaking down. So many other sports titles are gonna be getting a little bit of benefit of the doubt, or at least benefiting from ignorance on my part. Games like
Emmitt Smith Football
will not.
Did I beat it?
Yes, I smoked a couple teams with the Cowboys. Or at least with the grey unlicensed generic team from Dallas. The childhood 49er fan me is rolling in his grave with how often I have to pick those assholes to help my odds of winning.