#714 - College Football USA 97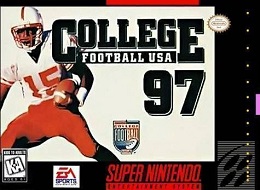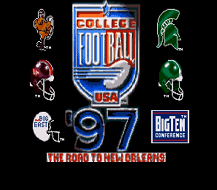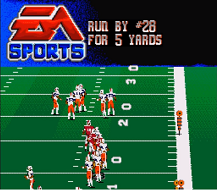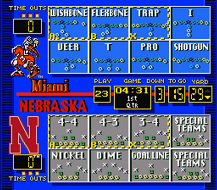 Indeed, this unassuming EA Sports title - one of the billion they released on the system (give or take) - is the absolute worst of the worst of the SNES library. In a platform full of infamous trainwrecks, this game separates itself from the rest of the pack through gameplay that is so mind-boggling broken, it's almost strangely poetic when you see it in motion.
And really, the only word that can adequately describe this game is "broken." Like, it is impossible to execute any sort of play, as the players quickly form into a mob of bodies, all bouncing off one another, that slowly gravitates towards the ball. Also, strangely enough, the ballcarrier, who I swear moves on his own to some degree, also seems to gravitate towards the mob. My working theory is that there is a line of code, to test collision detection or something, that has made one of the lineman a black hole of sorts, and everything surrounding him is incapable of escaping it. As the black hole mob grows the ballcarrier will eventually stick to it, crumple, and most likely go flying backwards 10 yards.
All of this will happen somewhere in the neighborhood of 1-5 frames per second.
"Well, then I'll just throw bombs" you say. Well, too bad, because EA seemingly forgot to code any hit detection for any thrown ball and approximately 99% of them are gonna fly through the players, straight into the ground. Or the ball is just gonna sail long by about 20 yards to no one in particular.
Did I mention that everyone appears to be ice skating while all of this is happening?
The sound is also really hard to describe, but in general is weirdly stretched and distorted as the frames struggle to keep up with the action. And besides the endless stream of grunts as the mob crashes into itself, the other sound you're going to be hearing a lot of is a shrieking, ear-piercing banshee scream that sounds like it was stolen from the Atari 2600. I think it's a whistle blowing. Usually six seconds (2-3 frames) after the play is over.
Does the game have any positives? Well, there is a rendered ref that shows up at the top of the screen to signal incomplete pass. He very enthusiastically shakes his head as he motions. Ever see a ref do that? No, of course you haven't. They couldn't even get that right! So by positive I mean unintentionally amusing. Not hilarious, just amusing. That's the best I could come up with.
I'd like to think that about 25% of the development time went into getting that ref's model just right. Or wrong in this case. "We didn't have time to create more than 3 frames of animation for the players, but damn if we didn't try and one-up the 3D models in
Donkey Kong Country
with this ref!"
Please buy this game, and play it. It isn't on the level of something like
Big Rigs Racing
or
Desert Bus
, but it's as close as the SNES got. Play it with friends and take a drink every time you fail to gain yardage if you want to get blasted in record time.
Update:
I recently played through a (one game) regular season and playoffs with Notre Dame so that I could check this game off the list of games to beat. So I have a few updated thoughts on it:
The passing game can be exploited, but it is still a total crapshoot. If you give your quarterback enough time your receivers will eventually get wide open (this happens every play). Though whether or not they catch the ball, or you throw it anywhere near them for that matter, seems to be complete chance. In fact I swear they will even do their best to dodge out of the way of the ball at times by jerking out of their route as it approaches.
The running game is still impossible.
The game is absolutely filled to the brim with bugs. Many of the running plays will pitch the ball into the empty backfield for a huge loss or turnover. Even the PC opponents do this, as if those plays were never coded to completion or something. And I've had my opponent get knocked back and start running towards the wrong endzone several times. And most bizarre of all is the fact that I cannot get anyone on kick coverage to run in a straight line. You'd think something like that would have been noticed right away in testing. Assuming this game even had testing...
The game has some major Tecmo Super Bowl syndrome, with later opponents being cheating assholes where stopping the pass proved to be basically impossible. I even tried moving guys off the D-line and into the secondary, so that I had a total of 8 players sitting in a prevent defense, and I still couldn't slow down the 80 yard touchdowns.
Did I beat it?
No, I have yet to win a game. Or finish one. Usually I don't make it past the first (failed) drive.
Yes, I won the championship with Notre Dame despite the game's best efforts to stop me.