#200 - The Peace Keepers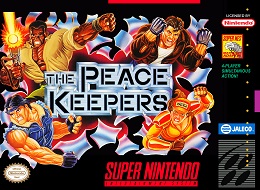 Closing out the
Rushing Beat
trilogy (which began with
Rival Turf
and
Brawl Brothers
) is
The Peace Keepers
. My pick for the best of the bunch.
IÖ wait a minute. I havenít covered
Brawl Brothers
yet, have I? Shit, I havenítÖ
Why did I think I liked
The Peace Keepers
more than
Brawl Brothers
? Am I getting the games mixed up?
Do
I like this one more? Argh, it's been a number of years since I played either one so I donít know what to believe. This is what happens when things drag on and playthroughs get further and further in the rearview mirror.
Dammit, Iíll be right back.
*plays through both titles again*
Okay, I lied.
Brawl Brothers
is better than
The Peacekeepers
. But theyíre both good! Er, in their own ways.
The best way to describe any of the games in this series is ďkinda like
Final Fight
Ē, or ďkinda like
Streets of Rage
,Ē or ďkinda like any of those other games you probably played once upon a time." You know the deal: punch dudes, kick dudes, throw dudes, occasionally beat up some token women dudes, pick up occasional turkey legs or medkits that are hiding inside of dirty crates or barrels, and occasionally take on some big gaudily-attired bosses. You know the formula.
The Peacekeepers
has one wrinkle in the form of a batshit insane story that makes no sense. Something aboutÖ I donít even know. Thereís a guy who talks in ye olde English, and Super Saiyan transformations. And ninjas. The mind boggles.
Also, some of the characters from previous titles return, so presumably there is some sort of overarching storyline that is continued here. Again though, good luck figuring out what it is.
Is that sort of bizarre, lost-in-translation cheese a good thing? I dunno. I like weird stuff, so I generally say, ďyes.Ē But I also like coherent storylines, soÖ I guess the juryís still out on this one. Mileage will vary, as it were (Iím gonna say that a lot with the coming games).
Gameplay is, as I said, pretty by-the-book. Levels are short and simple, the enemy types are pretty limited in number, and the bosses donít really throw too many curveballs. Itís pretty low-effort and unoriginal in that regard. An entire playthrough will last just under an hour, and moderately skilled players who have any familiarity with the genre should be able to clear it in one attempt.
Which isnít to say that there arenít a few extra things in play, as immaterial as they might be. For one, you have an ďextraĒ special attack, that is limited to several uses per continue (life). For most of the characters, itís an AOE attack. For others, itís a temporary power-up. I dig it. Itís nothing too exciting though.
Thereís also another power you have access to where your character temporarily becomes stronger and invulnerable whenever they are close to death. Again, nothing too exciting, but I dig it. Mostly because it bails my ass out whenever Iím too lackadaisical with grabbing a healing item. Sorta like one last reminder to pay attention and get your shit together.
Beyond that, thereís not much to say. Itís a brawler, and it plays like one. Which begs the question, what makes this a better game than
WildCATS
or
Rival Turf
or
Maximum Carnage
? Hell, people love
Maximum Carnage
, so why in the hell should
Peace Keepers
deserve a rank nearly a hundred spots higher?
And the answer to that is: 4-player battling. Yep, this is one of the few games on the system that takes advantage of the Super Nintendo Multitap.
And let me tell you, itís
pre-tty
dumb.
Street Fighter II
and
Saturday Night Slammasters
hardly need to feel threatened.
But, dammit if I didnít decide to boot this up one night with my friends, where we found a surprise hit on our hands. Yes, we had all been drinking, and yes, we are all easily amused. But we played it. A lot. And everyone had fun with it. Especially me. Something about two dudes spamming punches, waiting for the other player to move into their vertical plane, is the perfect recipe for hilarity. I dare say it was the highlight of the night.
So there you have it. A decent brawler, that plays things safe, but adds a ridiculous multiplayer battle mode that helps it rise above many of its peers. Come for the generic
Streets of Rage
-wannabe gameplay and baffling story. Stay for the party mode.
Did I beat it?
Yeah, several times.