#50 - Tetris & Dr. Mario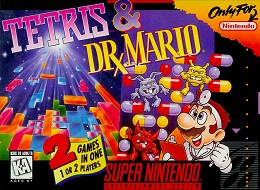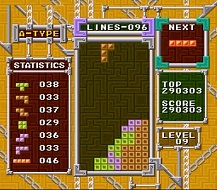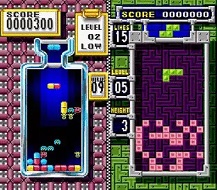 Alright, confession time.
A year or two ago, when a number of the top games in this project were still, uhÖ ďfluidĒ in their finalized rankings, I realized I had a problem. A big one. One that I had no idea how I was gonna solve.
You see, I had carefully defined the guardrails for this project. The criteria for every ranking were set in stone: everything would be ordered based on how much fun I can have with that particular game, strictly compared against other SNES games. Not by how good of a port it was. Not by how historically significant it was. Not by how much fun I had playing it 30 years ago. No exceptions.
Öwell, there were some exceptions, sort of. Like when I grouped all of the fishing games together. And all of the board game adaptations. Mostly because I (still) have no idea how to do a great job of breaking those down and sprinkling them throughout this project. Or at least I just wasnít capable of doing it in a way I was happy with.
Now, here I found myself with the exact same problem one last time: NES compilations. Where in the holy hell was I gonna rank
Tetris & Dr. Mario
,
Ninja Gaiden Trilogy
, and
Super Mario All-Stars
? I had no idea, and realized I had a dilemma on my hands. How in God's name was I going to compare a collection of multiple NES games against individual original SNES releases, in a way that made any sort of lucid sense?
Should I try and group those compilations up again, and just write them off as their own special little thing? Take the easy way out? Maybe lock them in at the #50-48 spots, come up with some sort of explanation for why they are a unique consideration, and be done with it? Could I live with that?
I realized I couldnít.
Super Mario All-Stars
is one of the most beloved games on the system, so in what way could I possibly justify such a move? Hell, I absolutely love the game myself. Artificially dropping it in the rankings for any reason would have made no sense.
So then, I had to ask myself: does
All-Stars
have a serious claim for the number one overall spot, and could I be okay with that? Because thereís a serious argument to be made that it does. After all,
Super Mario Bros.
is
the
most influential game of all time. It redefined the entire medium. It also made Nintendo a household name overnight. And it is the number one reason I got into video games in the first place. And
Super Mario Bros. 3
? Many people call that the greatest game of all time. Or, at the very least itís almost overwhelmingly considered the greatest NES game of all time. Two powerhouses, bundled together in one cartridge. And thatís not even considering
Super Mario Bros. 2
or
The Lost Levels
. Hardly two slouches themselves. All of those games remain an absolute joy to play to this day. Historical impact and all that aside, I love them myself.
And then what about
Tetris
? Possibly the
other
most influential game of all time. One that I have been playing (in various forms) for over 30 years at this point. The gameplay has barely evolved in all that time because it was already considered perfect upon release. How in the world am I supposed to quantify that sort of ďfunĒ for the purposes of this project? How am I supposed to condense those 30 years of playing
Tetris
, and put that condensed sentiment up for direct comparison against something likeÖ I dunno,
Secret of Evermore
? Or up against
Metal Marines
? How are any of those experiences even remotely similar? How can I possibly rank my 10 hours with
Axelay
against my 30 years of playing
Tetris
?
Well, I donít have a perfect answer to any of those questions. I donít have a perfect way to rank these games that will 100% satisfy everyone, or not be controversial in some manner, or even leave me without at least a tiny amount of lingering doubt. There is no bulletproof solution.
But thatís okay. When in doubt, stick to your guns, so I resolved to adhere to my own rules as closely as I can. I did the only thing that makes sense to me and placed the games in the spots that align with my own feelings. Treated them in the exact same way I treated all of the other games.
So, after several years' worth of waffling,
Tetris & Dr. Mario
lands here. In the top 50. Not anywhere close to the top 10. Perhaps that seems low. Perhaps it seems high. But itís the honest truth about how much I enjoy it.
Tetris
may be considered one of the greatest games of all time, across the entire history of the medium, beloved by millions upon millions of gamers. Itís a game Iíve probably sunk at least 500 hours into. Itís a great game.
Dr. Mario
ís pretty great too. But Iíd rather play
Demonís Crest
. Thatís just who I am. And these rankings reflect that.
Tetris & Dr. Mario
is my 50th favorite game to play on the Super Nintendo, so thatís where it landed.
Did I beat it?
Uh... I'm gonna go with yes. I've played both games to death, and can muster up respectable enough performances.